Noord Eetcafe: A chef-owned BYO's ode to the North Sea III
The corner dining room wrapped in folding cafe windows at 11th and Tasker Streets is spare but elegant in a Northern Euro way, with an original tin ceiling, naturalistic photo art from Lachman's partner, Robert Moysan, and a fountain-side view of a neighborhood that's evolved into the city's most exciting culinary scene.
That's exactly the village spirit that drew Lachman back from Chicago, where the Southwest Philly native spent a decade opening two restaurants, one of which, Home Bistro, he still owns.
Lachman and his small staff, most of whom joined him here both in the kitchen and dining room from Chicago, appear to have made quick friends with their new dining public - a trick, considering how noisy this little room can become. Noord has surely won them over thanks in no small part to food that puts a focus on good ingredients with sensible, natural touches rather than culinary flash.
Before and after at the Singing Fountain - Tasker St. & East Passunk Ave.
Before
After
The before photo was downloaded from Google Earth and was taken in 2010. The After photo was taken last week.
PARC is proud of the transformation!
Class-Divided Cities: Philadelphia Edition
This is ninth of a series of posts that explore the class divides across America's largest cities and metros. Using data from the U.S. Census American Community Survey, each explores the geography of class within a large city and metro area. For a detailed description of methodology, see the first post in the series.
The map above charts class concentrations for the city of Philadelphia. Each colored space on the map is a Census tract, an area within the city or county that can be even smaller than a neighborhood.
Fond III
Have our little BYOBs grown up?

Intriguing new ones, to be sure, are still trickling in. But the phenomenon that in many ways defined the Philadelphia restaurant boom for the last decade - and a story line of small, chef-driven dining rooms - has matured to the point where some of our best are growing beyond the start-up ambitions of their initial bare-bones boxes.

Just last week, in fact, Marcie Turney and Valerie Safran announced that their first hit, Lolita, would become the latest to go down, swapping its virgin Margarita-mix innocence for a liquor license. Others have added side markets (Pumpkin) or sibling restaurants with liquor licenses (Blackfish begat Mica and Ela).

An all-out move was the recent answer for Fond - albeit to just around the corner - the bistro whose crispy pork belly helped East Passyunk Avenue keep its culinary ambitions high as it morphed into the city's hottest dining strip.
Joncarl Lachman's Noord Won't Be a Noma Knockoff
Philly native and soon-to-be Chicago expat Joncarl Lachman is fast becoming a fixture along South Philly's East Passyunk Ave., where his forthcoming Noord is beginning to take shape. When Grub caught up with him at the venerable Pub on Passyunk East, he told us he's been keeping busy visiting the neighborhood's ever-growing crop of restaurants, and making friends with their owners and chefs.
On this latest visit, he also gained the community's support for outdoor seating at his new venture, which he's psyched to have opening up across the street from recently relocated Fond, and a mere stones throw from neighborhood spots like Stateside, Izumi and Chiarella's. "It's really amazing what's happening here," Lachman told us about Noord's immediate surroundings. "There's so many great restaurants in such close proximity, it's unbelievable."
South Philly group battles ongoing litter problem
Philadelphians might not like to admit it, but our city is trashy. Philly has a serious litter problem, and cleaning up our act is an ongoing battle that can often be a matter of trial and error.
Take, for instance, the Passyunk Avenue Revitalization Corporation (PARC), a non-profit real estate development company and public space maintenance organization. PARC spends $275,000 annually – roughly 40 percent of its budget – on litter pick up.
When the city replaced Passyunk Avenue's wire trash bins with Big Belly trash compactors, PARC's Executive Director Samuel Sherman purchased 30 of the retired wire baskets and installed them around the avenue. Soon, though, residents were filling the bins with household trash to the point that the bins overflowed and added more litter to the street. At one point someone propped a couch up against one of the wire baskets.
Passyunk Square: Home prices up, but still modest
Michele DiVeterano's enthusiasm for Passyunk Square is remarkable when you consider what life has been like since she bought her two-story, one-bedroom rowhouse in the 1400 block of Clarion Street 21/2 years ago.
Four months after she moved in, a water pipe burst. When electricians burrowed into the plaster walls, they found the wiring near fire-danger stage - they left her house with "three or four 50-pound bags of wires that had been stuffed in those walls," she says.
Big Vision Awards: Food and Drink
The flourishing food scene along East Passyunk Avenue is hardly a secret these days — even casual gastronomes have been dropping chefs' names like Styer, Prawlucki, Sabatino, Kearse and Cicala for a minute now. For those tracking industry minutiae more vigilantly, another neighborhood name has become a fixture: the Passyunk Avenue Revitalization Corporation, or PARC.
The nonprofit — born of the embattled Citizens' Alliance but sporting a new name, new leadership and a smaller footprint — has been steered by a board headed by Sam Sherman for just under two years. In that time, they've implemented an assertive, holistic approach to furthering the local dining cause.
It's no coincidence PARC's fingerprints are all over many of the biggest food stories of the year. Tenants see real perks. Their first restaurant overhaul was at 1911 E. Passyunk Ave., now home to much-lauded Will. Chris Kearse, a first-time chef/owner, gave input from the earliest design stages. When Fond relocated into their new PARC-owned 11th and Tasker digs earlier this month, they scored a prime location and a space built hand-in-hand with their new landlord.
There's a price break, too. Rents fall "a little under market," explains Sherman. The aim is two-fold: to attract start-ups who promise something new for the neighborhood but lack funds, and to make businesses accessible to residents. "At least 50 percent of our commercial tenants walk to work," Sherman estimates. Joncarl Lachman — of PARC's next big project, Noord — plans to live right above his restaurant.
Table Talk: Fond gets new address and a liquor license
Fond, the ambitious BYOB, has moved into a new space nearby, just off Passyunk Avenue, on the corner of 11th and Tasker Streets (1537 S. 11th St., 215-551-5000). Owners chef Lee Styer, Jessie Prawlucki, and Tory Keomanivong pick up a liquor license, a seven-seat bar (two beers on tap, three by the bottle; seven bottles of red, seven bottles of white; five of each by the glass, plus mixed drinks), and a 10-or-so-seat chef's table. They have not said what will become of their previous location.
Philadelphia Restaurant Review: Will
Some roads to opening a restaurant are riddled with potholes. Others are stony tracks for barefoot pilgrims—for chefs who grind their way through a sort of culinary stations of the cross, begging enlightenment from Thomas Keller and Grant Ac­hatz and the other high priests of cuisine.
Then there's the path Chris Kearse traversed, which took him halfway across the River Styx with no promise of a safe return.
The story of Will, his new BYO on Passyunk Avenue, is in some ways familiar. After nearly a decade spent apprenticing at the French Laundry and Alinea, cooking fish at Charlie Trotter's and Lacroix, and coming into his own at Pumpkin, the 28-year-old chef finally felt ready to open a restaurant with his own (middle) name on the marquee. The joys of ownership kicked off the first morning with a gas leak—the kind of thing that might have sent another restaurateur into fits. Kearse overcame it.
A PROFILE OF PARC'S NEW TENANT, CHRIS KEARSE, WHO IS SET TO OPEN HIS NEW RESTAUARANT "WILL" IN AUGUST
"Good hands." It's one of those broad bits of flattery you hear bandied about all sorts of professions. A wide receiver who cushions a rocket-launched football with his gloves has good hands. So does a scalpel-wielding surgeon who suppresses his tremors. Or a pianist whose fingers breeze across black and white keys like the jet stream.
Good hands are invaluable in a restaurant, too. Christopher Kearse has them, and they float around the tiny kitchen of Pumpkin with such ease that they may as well be disembodied. Sprinkling an exacting amount of sea salt onto a cube of seared steak, wielding tweezers to locate the precise resting place for a laser-sliced candy-cane beet, spooning out a jellybean of silky sauce soubise, wiping an imperceptible smudge off a plate with a sponge scissored into the size of a matchbook. Once his good hands pass a plate off to a server, they're right back at it, rifling through a low boy full of meticulously labeled quart containers for his next dish.
Fond to move on East Passyunk
Three years after their debut on East Passyunk, Fond owners Lee Styer and Jessie Prawlucki and Tory Keomanivong are on the move from 1617 E. Passyunk Ave.
They're not going far - 289 feet, according to Google Maps. They're taking 1537 S. 11th St., which previously had been earmarked by Birra owner Gordon Dinerman for a burger bar called The Fountainhead.
They'll pick up a liquor license at the new location, which should open in October and November.
Here's Craig LaBan's most recent review, in which Fond was elevated to three bells.
Styer says the new Fond will have a six-seat bar. They have not determined what they will do in their current location.
Prawlucki owns Belle Cakery, a dessert shop, at 1437 E. Passyunk.
Coming to East Passyunk: Fountain Porter, New Fond and Chris Scarduzio
In the past decade, East Passyunk Ave has gone from a tired strip stuck in the 1970s to South Philly's hottest resto-zone, and the new additions keep coming. A block away from the Singing Fountain at 10th and Tasker, a series of creative neon window signs light up the corner, teasing the Labor Day launch of Fountain Porter. A project from Evan Clancy and Scott Pawlicky (who currently work together at Fairmount's Kite & Key), the bar will be "old-school," according to Philly.com, with 20 drafts and "nothing pretentious."
That stretch of Tasker will also welcome the new incarnation of Fond, complete with a liquor license. Run by newly married couple Lee Styer and Jessie Prawlucki (who also has a storefront dedicated to her confections desserts in Belle Cakery), the New American will take advantage of the larger space to increase available seating (a weekend dining spot is hard to come by at the current BYO), as well as offer a full bar to complement the eats. Along with partner Tory Keomanivong, the duo is looking at an October move.
A solo act for Pumpkin's Chris Kearse
Huge news for East Passyunk: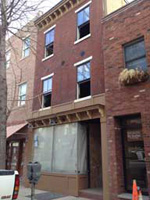 Pumpkin chef de cuisine Christopher Kearse, whose resume includes Chicago's Tru, Alinea, and Charlie Trotter, Napa's French Laundry, and Philly's Lacroix and Blackfish, is going solo.

Kearse has signed a lease at 1911 E. Passyunk Ave,, which the nonprofit Passyunk Avenue Revitalization Corp. has been rehabbing.
Kearse tells me that the BYOB - bearing his middle name, Will - is "not going to be like Pumpkin, but it's going to be like Pumpkin." That is, "French - but special, not 'special occasion.'"
Another Cool Building Renovation from PARC, This Time Not on Passyunk Avenue
We've brought a couple of projects to your attention from the people at Passyunk Avenue Revitalization Corporation in the past. Most recently, we gave you heads up about a property across from the singing fountain that's still in the process of being redone. Previously, we pointed out a couple of other PARC-driven rehab projects on Passyunk Avenue, restoring a couple of previously run down storefronts a little further south.
P.A.R.C goes Green!
FOR IMMEDIATE RELEASE
Contact: Catherine Ashworth
Head of PR, Mark Group
Tel: +44 7595 963 694
catherine.ashworth@markgroup.co.uk
Mark Group Celebrates Installation of New Solar Power Projects for Passyunk Avenue Revitalization Corporation
- Eight Solar Power Installations Will Meet 80% of Property Electricity Demand –
Philadelphia, PA, January 9, 2012 – The Passyunk Avenue Revitalization Corporation (PARC), a non-profit neighborhood development and maintenance organization, in partnership with Mark Group, the leading global provider of professional energy efficiency improvements, announced today the start of the first of eight solar installations on Passyunk Avenue properties in South Philadelphia. The solar power systems will generate approximately 80% of the residential and commercial property's electricity demand annually. Revenue generated from associated solar renewable energy credits will help fund additional green initiatives for the community over the next 10 years.
"Mark Group's solar power solutions are perfect for a non-profit," said Samuel Sherman, Jr., Executive Director for PARC. "These projects will help maintain the affordability of both retail and residential properties along Passyunk Avenue as well as help support another decade of sustainable community enhancement. Mark Group's solar financing made this investment feasible for us by reducing the upfront cost by 63%."
All eight roof-mounted systems will be installed on residential and commercial properties by May, 2012. The 39-kilowatt project is supported by Mark Group's financing through Sun Run, as well as $85K in federal solar power incentives. Investment in individual properties will create neighborhood wide benefits, reinforcing the broader mission of the organization and PARC will also capitalize on the monetary value of the solar renewable energy credits (SRECs) once the systems are commissioned and generating power.
"Our energy efficiency and renewable energy solutions directly impact the local community here in the Delaware Valley, saving residents and business owners money on their utility bills," stated Jeff Bartos, Mark Group CEO. "It's our business, but having employed over fifty members of the community and helped over 1,000 families in this region save money and live more comfortably just this past year, it doesn't feel like work. Depending on usage, each PARC property can expect to pay $10 to $20 a month to PECO – that's a significant cost reduction for the tenants. One of our main goals in 2012 is to increase awareness of the affordable energy efficiency and solar power solutions available to our community."
For further information visit www.markgroup.com and www.passyarc.com
ends
About Mark Group
Mark Group is a leading global provider of energy saving solutions. Founded in 1974, the Group now operates in 27 worldwide locations and helps over 7,000 homes become more energy efficient every week. Mark Group services are tailored to meet the individual needs of home and building owners. For further information, visit www.markgroupusa.com.
Planting the Holiday Spirit on East Passyunk ave
The Singing Fountain, East Passyunk Avenue at the intersection of 11th and Tasker streets, has received a seasonal makeover with colorful and decorative trimmings.